Monthly ArchiveAugust 2006
Flying stuff 15 Aug 2006 11:03 pm
Nice photo: the Holden blimp, flying over Oran Park last weekend. Photo taken from Southern Cross Gliding Club's DG-303 glider.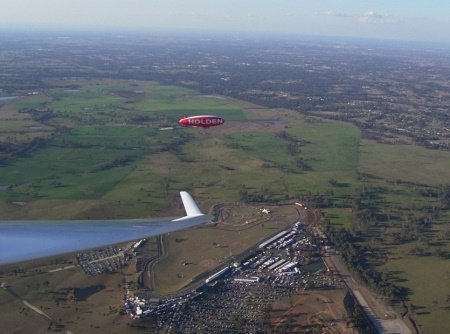 Humour &Video editing 10 Aug 2006 09:47 am
You know that Honda TV commercial where the various parts of a Honda Accord have been assembled into a long and complicated contraption that, when it all works together, results in a nice 'reveal' of the car? Of course you do.
Well, check this out!
Formula 1 07 Aug 2006 03:18 pm
British Formula 1 driver Jenson Button won his first Grand Prix overnight in Hungary!
A driver's first F1 win is a monumental occasion. It usually caps off years of struggle to get to the top. It is often followed by a sequence of wins as the pressure is somewhat relieved and all associated capitalise on the momentum built with the first victory.
In Jenson's case, this first win is doubly significant as it is the first win for the Honda F1 team (in the modern F1 era). The Honda team came into being over the last couple of years as Honda purchased the BAR team (which was founded on the ashes of the old Tyrrell team… but that's another story). After a dismal season, it seemed that Honda was getting further away from the top step of the podium, not closer. But all is now forgiven with the first mighty win chalked up.
Jenson's win was a classy one in tough conditions. Key rivals Alonso, M. Schumacher and Raikkonen all fell foul of the wet and slippery conditions, or of team errors. Just staying on the track was quite an achievement.
The Flying Nerd extends hearty congratulations to Jenson, the Honda F1 team and Honda diehard Scott C.
As a tribute to Jenson, I am happy to once again display this picture of Jenson Button and your correspondent. I hasten to point out that this is not a very recent picture!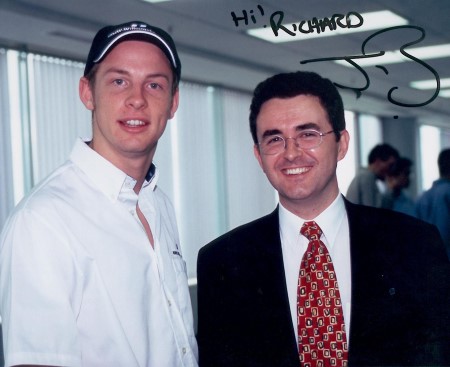 Food 03 Aug 2006 10:09 am
Some people make a mess in the kitchen.
The Flying Nerd cooks like a TV chef (although the outcome is often not nearly as spectacular).
For example, I prepared the ingredients for last night's lamb stir fry (although Mrs Nerd actually cooked this one). Here's everything, ready to go.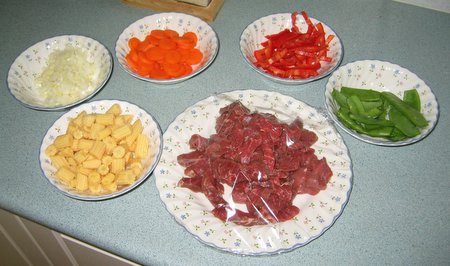 See, all neat and tidy. Kitchen tidied, rubbish thrown away and benches wiped before the actual cooking begins.
Could there be a more sensible way?
Formula 1 03 Aug 2006 09:59 am
I admit to surprise. WilliamsF1 has decided not to sign a new deal with Aussie F1 Ace Mark Webber, after allowing the option over his services to expire a few days ago. He is to be replaced by the team's test driver, Alex Wurz.
Continue Reading »
Formula 1 02 Aug 2006 02:52 pm
Mark Webber, one of Formula 1's most under-rated drivers, is 'on the market'. Which team will he drive for in 2007?
Keen observers will have noted that Mark's driving has picked up considerably this year — his performances have been strong and mature, but (due to severe reliability issues with the Williams FW28 racer) this is is not reflected in his current position on the world championship points ladder.
Continue Reading »