Monthly ArchiveFebruary 2006
Humour &Nerd stuff &Nonsense 26 Feb 2006 03:42 pm
As an Engineer (by training if not profession), this tickled me…
An MBA and an Engineer go on a camping trip, set up their tent, and fall asleep.

Some hours later, the Engineer wakes his MBA friend.

"Look at the sky and tell me what you see."

The MBA replies, "I see millions of stars."

The Engineer asks, "What does that tell you?"

The MBA ponders for a minute…

"Astronomically speaking, it tells me that there are millions of galaxies and potentially billions of planets.

"Astrologically , it tells me that Saturn is in Leo.

"Time-wise, it appears to be approximately a quarter past three.

"Theologically , it's evident the Lord is all-powerful and we are too small and insignificant.

"Meteorologically , it seems we will have a beautiful day tomorrow.

"What does it tell YOU?"

The Engineer friend is silent for a moment, and then speaks.

"Practically…it tells me that someone has stolen our tent."
Formula 1 16 Feb 2006 05:17 pm
Warm up your VCRs, folks. The 2006 Formula 1 season begins in just 24 days.
For 2006, the first race is in Bahrain, to avoid a clash with the Commonwealth Games (yawn) in Melbourne. The Australian GP takes place on Sunday, 2 April 2006. Melbourne will revert to its usual place in the calendar for 2007.
I've been keeping an eye on developments over the F1 off-season. Here's my slightly biased and probably uninformed view of the current state of play, team by team.
Continue Reading »
Flying Nerd site 07 Feb 2006 03:10 pm
Please let me know if you come across any broken links or other irregularities.
Formula 1 07 Feb 2006 01:46 pm
Many-times MotoGP world champion Valentino Rossi has been testing Ferrari F1 cars off and on for the last six months or so. It's widely speculated that the Ferrari F1 team hopes that Rossi's undoubted 'feel' for speed can be translated into F1 world championships.
Such a remarkable achievement would not be without precedent. John Surtees won seven motorcycle world championships (various categories) from 1956 to 1960 before going on to win the F1 championship for (you guessed it) Ferrari in 1964.
So far, Rossi hasn't quite got up to the speed of F1 super-driver Michael Schumacher. However, he's been making a pretty good fist of things. The Flying Nerd's spies have finally figured out just how Rossi is managing to go so fast so soon: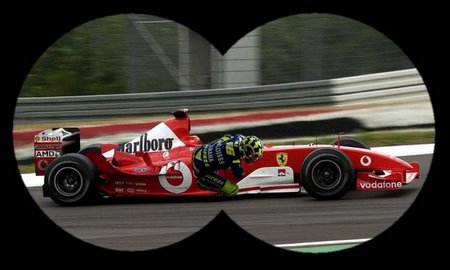 Miscellaneous 06 Feb 2006 07:24 pm
The Flying Nerd tries to bring you new and interesting content. Things to brighten your day. Little gems that sparkle amidst the gloom and dross of the internet…
I don't know where this video came from originally. It was sent to me by the man I am currently working for. This really is some amazing footage.
When I first saw it, I had no idea what I was looking at. I heard lots of loud bangs and thought there was shooting going on. I didn't really want to watch. Then I realised that the bangs were (wait for it…) FISH!
This video shows a couple of (Mexican?) men on board what we would call a 'tinny', amidst a veritable swarm of jumping fish.
There's really not much more I can say about this. Go on — use a bit of bandwidth. Take a look. Tell me what you think.