Monthly ArchiveDecember 2005
Family 20 Dec 2005 04:40 pm
You may have noticed comments written by 'Lizzie' on this site from time to time. Lizzie is the Flying Nerd's number one daughter — 11 years old.
And she's Done Good.
Lizzie has been elected as School Captain for her school next year (2006).
Well done, Lizzie. The Nerd is flying proudly today!
Flying Nerd site 03 Dec 2005 09:48 pm
Delete your old bookmark and make a new one!
Oooohhh aaahhhhh.
Church 03 Dec 2005 02:01 pm
On Sunday, 18 December 2005, Macquarie Anglican Churches is presenting Carols in the Park.
The park in question is Yamble Reserve, seen here from Google Earth: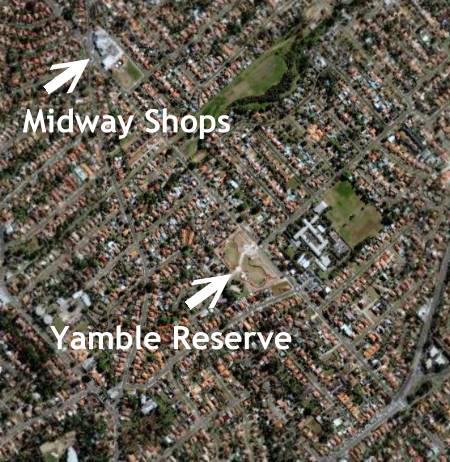 Yamble Reserve is on Quarry Road in North Ryde, opposite Smalls Road. It's a teriffic venue for the event — we sit in a natural 'bowl', so all can see, and there is a great kids' playground area adjacent to the 'singing zone'.
We'll be cooking sausages and selling cool drinks on the night.

Continue Reading »
Formula 1 03 Dec 2005 01:33 pm
Formula 1 testing resumed this week after the end of season break — except for Ferrari which has been testing during the 'gentleman's agreement' break period. But that's another story, and you already know my feelings about Ferrari…
Freed from the shackles of BMW's dud engine and whining F1 project director, the WilliamsF1 team has begun testing with a new and striking 'interim' livery:
Flying stuff 03 Dec 2005 12:44 pm
Southern Cross Gliding Club will be displaying a glider on the front lawn of the Willoughby Town Hall (Victoria Avenue, Chatswood) tomorrow (Sunday, 4 December 2005). Better still, we'll be selling tickets for 'Air Experience Flights'.
An Air Experience Flight is like a joy flight, but with one big difference. Under the careful supervision of one of our experienced instructors, YOU get to take the controls and fly the glider. It works like this:
* the instructor flies the glider during take-off and aerotow (when the glider is towed aloft behind a small power plane)
* the instructor will fly the glider for a while to show you the views and explain a little bit about what's going on
* if you're keen, the instructor will help you take hold of the controls and fly the glider — you'll get to experience straight-and-level flight, and make a few turns
* when it's time to land, the instructor will again take the controls to bring you back for a gentle landing on our (currently very green) runway.
Sound like fun? Come and check out our glider in Chatswood. Ask us some questions. Buy a ticket!
Since the club is run by volunteers and no-one gets paid for taking you on an Air Experience Flight, we are able to use the profits from this program to save up for our next new toy — a new ASK-21 two seat training glider.