Monthly ArchiveSeptember 2005
Computing - general &Nerd stuff 28 Sep 2005 04:30 pm
I am constantly cutting text from one place and pasting it into another. I'm fussy about how my documents appear, so I very frequently use 'paste special / unformated text' so that whatever I'm pasting takes on the formatting of the document I'm preparing.
Here's a super-useful utility (PureText) that allows me to use CTRL-c to copy text and WINDOWS-v to paste unformatted text. It's a little thing, but it is beaut.
Flying Nerd site &Miscellaneous &Nerd stuff 28 Sep 2005 01:49 pm
Updated 10 Oct 05: Gravatars are, how shall I put it, INTERMITTENT. Sometimes your lovely Gravatar will show up. Sometimes you will be a grey or black box. The man from gravatar.com is trying to fix things as quickly as possible.
Updated: 30 Sep 05. They're fixed.
There's a problem with displaying Gravatars (globally recognised avatars) at present.
Sounds like the folks at gravatar.com have a traffic volume issue with their hosting provider. Until they work it out, I guess we're stuck with black boxes in the comments section.
See here for details.
Stay tuned.
Formula 1 27 Sep 2005 07:28 pm
Ron Dennis claims here: itv.com/f1 – Dennis ambivalent about Alonso that it's not sour grapes when he says newly crowned World Champion Fernando ALonso isn't as good as his drivers Kimi Raikkonen and Juan Pablo Montoya.
Ron, you've got it wrong this time, son.
Fernando has driven a great year. He won when he needed to win, and he stayed on the track all year (Canada excepted). He is a truly worthy champ.
As for Montoya… let's see…
* 'tennis injury'
* 'brake test' incident at Monaco
* 'red light' incident in Canada
* qualifying incident in Germany
* etc.
Raikkonen dosen't do as many 'silly' things, but his lack of composure when the chips are down and poor PR performances don't point to a superior overall package.
What do YOU think?
Formula 1 23 Sep 2005 05:32 pm
Over the last few days, details have been emerging about the arrangements for F1 driver Jenson Button in 2006 and beyond.
Jenson is getting what he wanted: he has been released from his contract with WilliamsF1 and will drive for BAR Honda. This isn't Frank Williams being magnanimous, mind you. Some serious lucre is changing hands to make this deal happen. Rumours suggest that Jenson (backed by BAR Honda) is paying WilliamsF1 somewhere between GBP10 milliion and GBP20 million in compensation.
I've updated the Buttongate II information page (see the column on the right) with the latest comments from the various players in this saga.
Formula 1 23 Sep 2005 12:02 pm
Check this out.
Not much more to say, really.
Video editing 21 Sep 2005 10:16 am
Ulead Systems has released version of of MediaStudio Pro, their high-end video editing application. See this for details.
Main changes are highlighted here and the comparison with version 7.3 is here.
Not highlighted are a couple of exclusions: CG Infinity and VideoPaint, both part of the MSP 7.0 suite, are no longer included with MSP 8.0. However, they are available separately for a low price. I've never found a use for either, so probably won't miss them when I do upgrade.
Click this link to buy, and I get a small reward from Ulead. Help keep the Nerd Flying!
Formula 1 20 Sep 2005 01:49 pm
Speculation (see this) in the press suggests that Buttongate II, the wrangling over which team British Formula 1 driver Jenson Button will be part of in 2006, is over. It's been suggested that a financial settlement between Jenson Button, WilliamsF1 (the team which holds a contract for his services in 2006) and BAR (his current team, where he wants to stay in 2006) has been reached. It's suggested that BAR is providing funds for Jenson to use to buy his way out of the WilliamsF1 contract.
Continue Reading »
Flying Nerd site 17 Sep 2005 10:34 pm
Out with the curves and the insipid blue. In with sharp angles, strong lines and bold colours.
Why? Because I can. It's a learning thing.
What do you think?
[PS: I've also upgraded to WordPress 1.5.2. This shouldn't change much 'up front'. Let me know if you come across any problems.]
Formula 1 11 Sep 2005 09:41 am
It was announced overnight that WilliamsF1 will switch from Michelin to Bridgestone tyres for 2006 and beyond.
Continue Reading »
Formula 1 01 Sep 2005 10:32 pm
Mighty Monza — home of the Italian GP. A wonderful, fast circuit — steeped in history. Great aerial photo after the jump.
Continue Reading »
Video editing 01 Sep 2005 09:52 pm
Update (21 Sep 05): The final version has been released (see post above) and the Beta has been withdrawn. Try before you buy is available here.
Ulead Systems has released it's high-end video editing software for general (public) beta trial.
Continue Reading »
Formula 1 01 Sep 2005 08:02 pm
What is that odd-looking structure on the top of Nick Heidfeld's Williams racer at the recent Monza tests?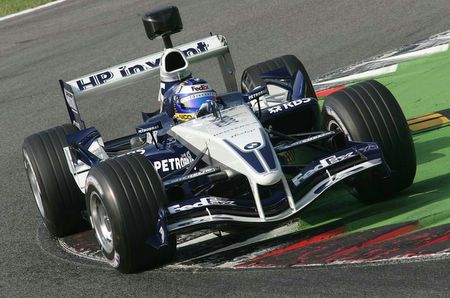 More pictures, and my guess after the jump.
Continue Reading »