Monthly ArchiveAugust 2005
Nerd stuff 29 Aug 2005 09:31 am
The Flying Nerd has 100 Gmail invitations to give away. Would you like a Gmail account (webmail with 2.5GB storage)? If so, and I know you, send mail to me and I'll arrange for you to receive an invitation.
Formula 1 16 Aug 2005 09:59 pm
The news is out — check any F1 web site for the official press release — WilliamsF1 is using Cosworth V8 engines in 2006.
Continue Reading »
Formula 1 10 Aug 2005 01:53 pm
Once we got past the first lap dramas (both RBR cars out, one of them having completed a barrel roll), the race was a pretty ho-hum affair — as is usually the case on the Hungarian go-kart track.
Continue Reading »
Nerd stuff 08 Aug 2005 02:18 pm
From time to time, I like to buy bits and pieces for my home computer. Hard disc here. Stick of RAM there. You know how it goes.
Continue Reading »
Flying Nerd site 04 Aug 2005 04:52 pm
To help with navigation, www.flyingnerd.com now displays the sidebar (that's the bit over there ==>) on every page. Previously this was omitted when reading a full post.
Hope you think this helps. I do.
Continue Reading »
Church &Miscellaneous 03 Aug 2005 04:41 pm
Friends and fans of One Eyed Jim, Macquarie Anglican Churches' resident pirate, will be pleased to know about Talk Like A Pirate Day – September 19.
By the way, do you know why he's called One Eyed Jim?
Continue Reading »
Formula 1 02 Aug 2005 03:50 pm
Back in 1999, your correspondent with nerd-ish tendencies had the opportunity to meet and spend a day with Formula 1 driver Jenson Button. This photo proves it: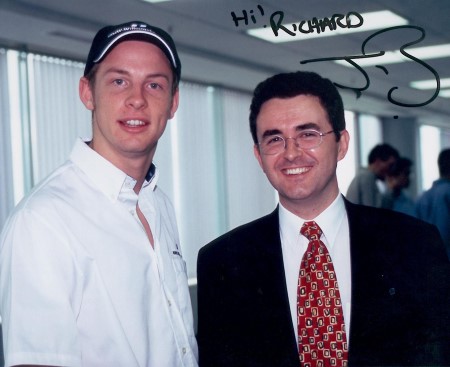 Of course, neither of us really looks much like that any more…
But I stray.
Buttongate (the saga about Formula 1 driver Jenson Button's contracts) is on again.
Continue Reading »
Formula 1 02 Aug 2005 10:56 am
Regular readers of the this site's caustic Formula 1 commentary will know that the Flying Nerd does not think highly of Ferrari's arrogant practices, especially regarding testing.
Continue Reading »