Category ArchiveNerd stuff (technology)
Music &Nerd stuff (technology) 14 Aug 2008 09:46 am
My trusty old Rio Karma is nearing the end of its useful life, so I'm starting to think about an upgrade.
The 'easy' solution would be simply to buy an iPod. Since I'm looking for something with more than 20GB of solid state (not hard drive) storage, the 'best fit' iPod for me would seem to be a 32GB iPod Touch. And it's a lovely looking piece of kit — but really expensive ($A629). And then there are my pet iPod peeves:
limited audio format support (I'd like my device to be able to play a format that offers higher quality than MP3 at a given bit rate — maybe AAC fits the bill, but I'm not yet convinced)
iTunes and all the associated DRM issues (I don't buy compressed music — everything in my existing player is ripped from CDs that I own (no copies), so I don't need access to an online store with wide range of downloadable music).
So… I'm contemplating staying outside the iPod ecosystem. I'm seriously considering the Creative Zen 32GB player, which can be had for $A319.
If you have thoughts or experiences, let me know.
Computing - general &Nerd stuff (technology) 11 Jul 2007 03:42 pm
I know that not everybody believes in so-called Internet Security Suites. These collections of security products are designed to keep your net-connected PC free of nasties such as virii, spam, spyware, adware and the like. It is sometimes suggested that these products are, in fact, unnecessary bloatware, and that the operating system (particularly if it's Windows Vista) can do just as good a job.
Personally, I prefer to run a security suite. I believe that applying the expertise of a specialist security company can help protect the PC from on-line threats. I'm happy to pay the subscription price if the product does a good job.
Sadly, my experience is that it's really hard to find a Vista-compatible security suite that does do a good job. Here's a quick summary of my experiences with some of the big names…

Continue Reading »
Music &Nerd stuff &Nerd stuff (technology) 09 Jun 2007 09:22 am
The replacement parts for my broken Rio Karma digital audio player arrived (from Karmalimbo in Canada), and the beastie is now repaired and working as well as ever.
Here's how it all came together.
First, a picture showing the bits of my Karma after I'd opened it all up to find the problems (broken volume control buttons). This photo was taken after removing the case and disconnecting the battery (battery is the square, balck piece) but prior to removing the display and hard drive from the main (damaged) circuit board.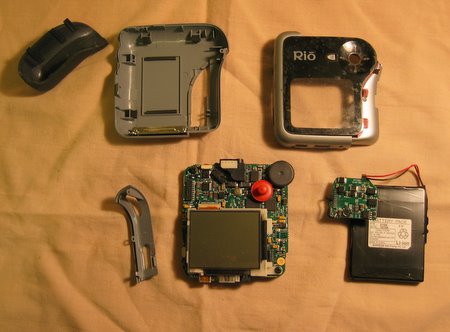 Computing - general &Nerd stuff (technology) 16 May 2007 02:55 pm
On a number of occasions recently, it would have been really handy to have a colour laser printer at the House of Nerds, in order to produce business-quality colour printouts.
I thought seriously about buying one of the nifty little Samsung CLP-300N devices ($A599 RRP, available for less than half that price at IT Estate). Then I did the sums on running costs and quickly changed my mind.
Music &Nerd stuff (technology) 08 May 2007 04:45 pm
It's not as bad as it sounds, folks.
My companion on my early morning constitutionals – an aged Rio Karma digital audio player – has died. The 'increase volume' button failed. By the time I figured out what the problem was, it was too late – I'd already turned the volume down.
Nerd stuff (technology) 17 Apr 2007 05:15 pm
This is neat. Microsoft Office 2007 knows how to post to a WordPress site. I've prepared this post by typing into Microsoft Office Word 2007, and simply pressing the 'publish' button.
It just works!