Church &Curmudgeonliness 11 Apr 2007 05:02 pm
Now this is really silly.
A school in Rhode Island (USA, where else?) has banned the Easter Bunny for being 'too Christian'. They have replaced him/her with 'Peter Rabbit'.
Maybe I'm missing the point, gentle readers, but it seems to me that the Easter Bunny:
* represents a crass commercialisation that adds nothing to the most significant of Christian celebrations
* would not be missed by most Christians if some sort of religious myxomatosis were to take hold.
Don't get me wrong — the eggs at least have the potential to make a point (new life, etc.). I don't have a problem with using eggs to mark Easter. But who ever heard of eggs coming from rabbits?
I guess the point is this: the Easter Bunny isn't a Christian symbol. Banning the Bunny for being 'too Christian' is just another case of political correctness gone mad.
Church 10 Apr 2007 08:16 pm
John reports Jesus' final words on the cross as: "It is finished".
What did Jesus mean? What was the 'it' that was finished? And why does 'it' matter?
Keith Baker of Macquarie Anglican Churches spoke powerfully and clearly on this subject on Good Friday. Download this file to listen to what he had to say.
Church 09 Jan 2007 09:41 pm
A few weeks ago, I commented about Carols in the Park. Thought I'd share a couple of images (thanks to Max W for the photos) from the event.
First, here's a photo of your correspondent wearing a subtle disguise…
And here's one that's harder to explain…
Let's just say that the monkey graduated from Moore Theological College – and he did have a great Gospel message!
Church &Flying Nerd site 13 Dec 2006 04:40 pm
Not much happening around here for a few more days. I am once again co-ordinating Carols in the Park for Macquarie Anglican Churches.
Venue is Yamble Reserve, Quarry Road, Ryde. The event takes place at 6pm on Sunday, 17 December.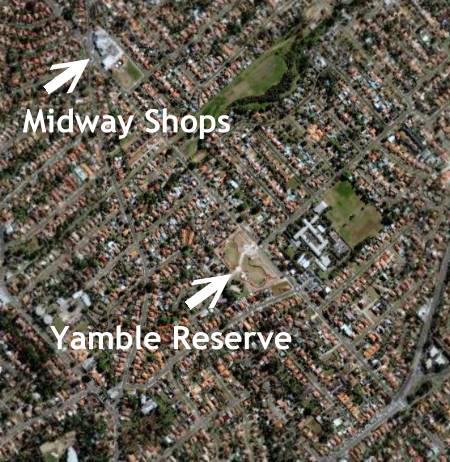 Church &Computing - general &Nerd stuff 22 Nov 2006 10:50 am
I wrote some time ago about using Pamela to record Skype calls — particularly as an aid to keeping a church congregation in touch with sent/supported missionaries.
I've just seen details about another (simpler) Skype plug-in that claims to do the same thing: PowerGramo.
I haven't used PowerGramo, and so I can't recommend it. If you try it out, please post a comment!
Church 26 Jul 2006 04:48 pm
I'm currently reading God's Politics by Jim Wallis. Wallis is an American evangelical theologian, preacher and activist.
God's Politics presents an analysis of the ways in which the political Right has 'appropriated' God (inappropriately), and the ways in which the political Left struggles with so-called moral issues.
Continue Reading »
Church &Computing - general 18 May 2006 01:33 am
At Macquarie Anglican Churches we support a number of missionaries in various parts of the world.
One of the challenges of supporting missionaries is the maintenance of interest amongst the congregations: it's easy to lose contact with people half a world away. We've tried (with varying degrees of success) to use multimedia in church to build and maintain interest in our missionary partners and their work.
Continue Reading »
Church 03 Dec 2005 02:01 pm
On Sunday, 18 December 2005, Macquarie Anglican Churches is presenting Carols in the Park.
The park in question is Yamble Reserve, seen here from Google Earth: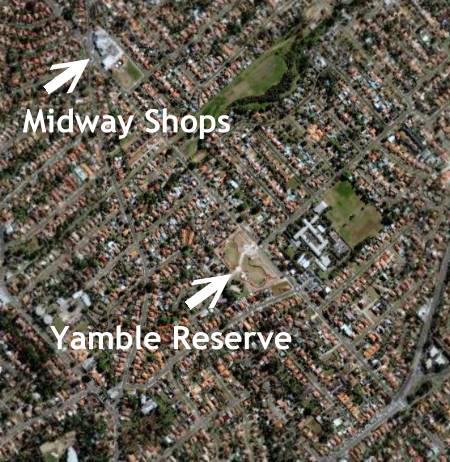 Yamble Reserve is on Quarry Road in North Ryde, opposite Smalls Road. It's a teriffic venue for the event — we sit in a natural 'bowl', so all can see, and there is a great kids' playground area adjacent to the 'singing zone'.
We'll be cooking sausages and selling cool drinks on the night.

Continue Reading »
Church 06 Nov 2005 10:53 am
Fresh posts have been few and far between for the last few weeks and may be spasmodic for the next few as well.
Continue Reading »
Church &Nerd stuff 18 Oct 2005 08:10 am
Quality evangelical audio content is now being made available at sydneyanglicans.net. If you've got an mp3 player, why not drop in and have a look?
I'll try loading some of these into my player for morning walks. Watch out for some comments on the content, here on the Flying Nerd.
sydneyanglicans.net – Welcome to God-casting
Church &Miscellaneous 03 Aug 2005 04:41 pm
Friends and fans of One Eyed Jim, Macquarie Anglican Churches' resident pirate, will be pleased to know about Talk Like A Pirate Day – September 19.
By the way, do you know why he's called One Eyed Jim?
Continue Reading »
Church 27 Jul 2005 08:50 am
For many people, Christian or not, the last book of the Bible — Revelation — contains so much strange content that it appears to be totally incomprehensible. But if you're prepared to think about about the context of Revelation and the type of literature (apocalyptic) that it is, then everything starts to fall into place.
Continue Reading »