Cars &Flying Nerd recommends 15 May 2007 04:12 pm
Here's something new for the Flying Nerd – car reviews.
Those who know me will also know that I'm partial to a nice car. Past inhabitants of the FN garage have included a Nissan Pulsar SSS, Ford Falcon XR6, Subaru Liberty RX and VW Golf GTI (no, I'm not known for my brand loyalty). The current Nerd-mobile – a 5-year-old Ford Escape (nee Mazda Tribute) – reflects the triumph of function over form: it can tow a glider trailer and is not discomfited when bashing around the perimeter tracks at a country airfield. The Golf GTI was far from 'at home' in that environment.
Just for this week, the Escape is away having some repairs done, and in its place, AAMI has furnished (for the princely sum of $15 per day) a Nissan Tiida. I thought it might be fun to pass comment on this latest model tiddler from Nissan.
Overall, the Tiida is a pretty good little car. It's not a car for enthusiasts, but for a small family looking for practical around-town transportation, the Tiida would be a decent solution.
Cars &Flying Nerd recommends &Sport 08 May 2007 01:43 pm
I've been reading Motorsport News since the first edition was published, back in 1993. I don't think I've missed an issue in that time!
Reacting to changes in the publishing game, the MNews team has decided to
abandon the fortnightly magazine format
produce a weekly on-line edition (free of charge)
publish a monthly magazine with in-depth news and analysis.
The third on-line edition has now been released. You can access it here. It's terrific!
If you enjoy motorsport (local and international), then I thoroughly recommend that you check out Motorsport News. Visit the site for a weekly update, but be sure to support the team's efforts by buying the monthly magazine as well.
Cars &Nerd stuff 14 Feb 2007 10:07 am
Last night I finished watching Top Gear's latest 'race' episode. I needed a break from studying Reformation Church History. I have an exam on Sunday (part of the Moore Theological College's Preliminary Theological Certificate).
In this episode, Jeremy Clarkson was again pitted against Captain Slow (James May) and the Hamster (Richard Hammond). The idea was to be the first to deliver a truffle from Alba in Italy to a restaurant in Central London.
Jeremy was driving the stupendous Bugatti Veyron: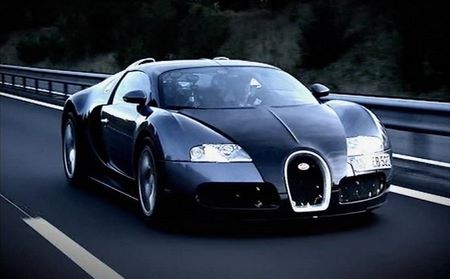 Cars &Miscellaneous 06 Feb 2007 10:52 pm
In a recent episode of Top Gear, Jeremy, Richard and James drove supercars across France to visit the Millau Viaduct (bridge).
I could not believe my eyes when they showed this structure on telly. It is magnificent, mind-blowing, beautiful, stark. The 450 pixels I allow for photo widths here on flyingnerd.com simply can't do it justice. Visit the linked Wikipedia article and be amazed.
Cars &Nerd stuff 29 Jan 2007 09:19 pm
Watch and be amazed… Reason for crash is revealed – and is very obvious.
Methinks the Hamster still seems a little overwhelmed with just how fortunate he was to get away with this.
Cars &Nerd stuff 10 Jan 2007 05:38 pm
These two videos show a recent interview with Richard Hammond, the Top Gear presenter who suffered a serious brain injury when he crashed while driving a jet powered car in September 2006.
The little fella is looking really well.
Cars &Miscellaneous 31 Oct 2006 02:09 pm
With fuel prices spiralling, a young man's fancy turns away from V8s and four wheel drives to hot hatches.
Mazda's new Mazda3 MPS looks liks a piping-hot hatch, with its 190kW turbo engine. Most reviewers comment that this is far and away the hottest of the current breed of hatches – and there's plenty of competition. But check out the speedo…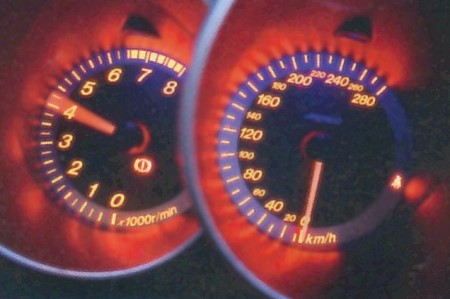 With a range of 0 – 280 km/h spread over only (about) 200 degrees of the possible arc of pointer travel, this crazy instrument would make it almost impossible to accurately read and maintain speed at (say) 40km/h in a School Zone.
Surely the most sensible design approach would be to:
* maximise the use of available instrument space by placing the top speed as far as possible in the clockwise direction of rotation
* use a non-linear graduation of the instrument (easy in an electronic speedo) so that (say) the first half of the needle's travel shows speeds from 0 – 100km/h, and the second half of the travel shows 100 – [maximum] km/h
* show a sensible maximum speed (there's no way this car would ever get to 280km/h – even down hill with a tail wind!).
Frankly, Mazda, this is just silly.
Cars 24 Oct 2006 09:43 am
Top Gear presenter Richard Hammond, who was injured when he crashed a jet-powered car while filming for the show, has given his first interview since the accident.
Based on the interview, Hammond seems to be lucid and in good humour. Details here.