Flying stuff 05 Feb 2007 12:02 pm
I've been back for a few weeks now, and have finally had time to add some more information about Gliding Camp to this site. Here are some photos: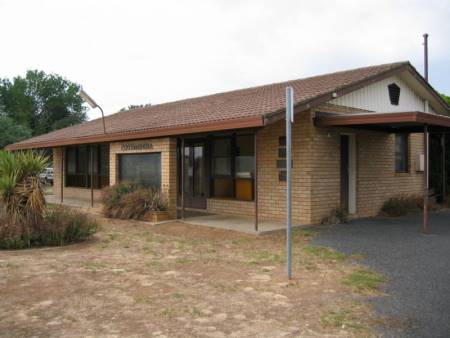 This photo shows the disused terminal at Cootamundra Airport. The local Council allowed us to use this building as a base for operations during Gliding Camp. (Like many country towns, Cootamundra no longer enjoys scheduled passenger air services.)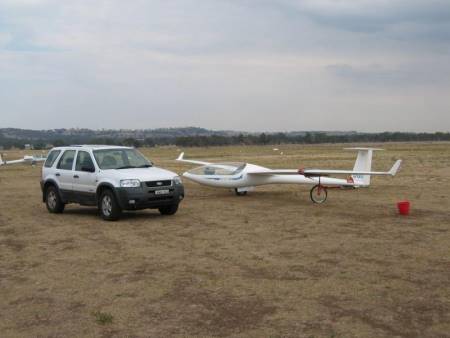 This photo shows my car parked next to glider DGU (a DG-303). Each day before flying, we do a comprehensive inspection of the aircraft, wash them and load our gear on board. It's handy to be able to take the car onto the airfield to do this.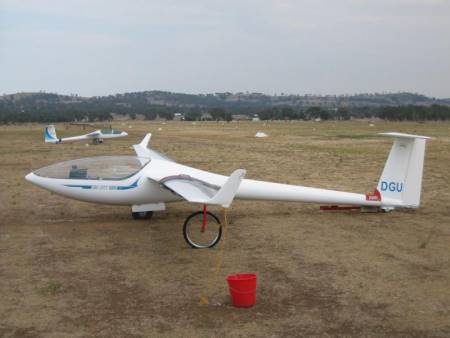 Here's a closer view of DGU "tied down". There are ropes from each wingtip to pegs in the ground, another rope across the tail boom just in front of the fin and, finally, a rope tying down the front of the aircraft connected to the normal rope hook that we use for launching. A properly tied down glider will be safe in even very strong winds.
This is our Piper Pawnee glider tug (formerly a crop duster). The brown 'smear' just to the right of centre in the photo is a very narrow, short-lived 'willy willy' that launched itself from a nearby hill. Willy willies are a good sign of thermal activity!
I spotted this furry fellow scampering across the airfield one day. I didn't ask to see his security permit…