Flying stuff 22 Jan 2007 01:13 pm
In this post I described my failed attempt to fly a glider 500km around central western NSW. Due to inclement weather, I ended up landing in the 'front paddock' at Bergen Park, a property 35km to the south west of Forbes.
I didn't have a camera with me, but I did take a couple of (sadly) low quality pictures on my SonyEricsson T630 phone. Here they are: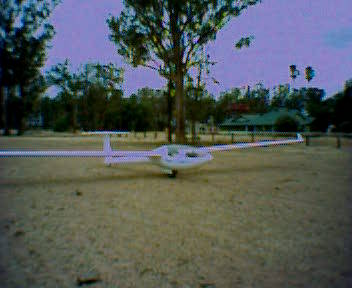 I actually landed about 75m away from where I took the photo (towards the middle of the paddock). I pushed the glider over near the fence so that the retrieve crew would have less mud to deal with in the event that one of the storms rumbling in the area had chosen to drop rain on the paddock. You can't see it in the photo, but I have tied down the glider by driving stakes into the ground and securing ropes to the wingtips and around the tail boom.