Monthly ArchiveJanuary 2007
Computing - general 31 Jan 2007 12:16 pm
Being a nerd, new stuff interests me.
I've steered clear of the Windows Vista beta programs as I just don't have a computer in the house that can 'go down' without impacting other family members. But now that Vista is released and the upgrade pricing (particularly for the Academic version — which is applicable in many home situations) is not too bad, I'm thinking about and planning for the upgrade.
Continue Reading »
Cars &Nerd stuff 29 Jan 2007 09:19 pm
Watch and be amazed… Reason for crash is revealed – and is very obvious.
Methinks the Hamster still seems a little overwhelmed with just how fortunate he was to get away with this.
Flying stuff &Nerd stuff 23 Jan 2007 12:12 am
When I drove into Camden Airport to drop off a glider after Gliding Camp, I noticed that a new windsock had been installed. Here are a few interesting photos…

This picture shows a general view of the Holdenberg.
Continue Reading »
Flying stuff &Miscellaneous 22 Jan 2007 01:23 pm
My gliding exploits last week brought home to me very clearly the desperate situation facing farming families during the current drought.
From 8,000′ in the air, you can see a long way (especially from the excellent vantage point of a glider cockpit – much less restricted vision compared to a passenger window in a normal aircraft). And by far the dominant colour on the ground is brown. Aside from a few irrigated paddocks (and I really do mean a few) and the occasional river course, there's nothing green on the ground at all.
Pray for the farmers and their families as they contend with the financial hardship that the drought has brought. Pray for them as they face the relentless dust that blows off the vegetation-deprived paddocks. Pray for the people in the towns who are also suffering as the goods and services they offer are not needed by (or can't be afforded by) the farmers.
An example that we came across at Cootamundra airfield: even the agricultural pilots are suffering as there are no crops to spray – expensive aircraft sit idle in hangars with nothing to do. The only bright spot for these small-time aviators is the bitter-sweetness of aerial fire fighting work…
Pray for rain.
Flying stuff 22 Jan 2007 01:13 pm
In this post I described my failed attempt to fly a glider 500km around central western NSW. Due to inclement weather, I ended up landing in the 'front paddock' at Bergen Park, a property 35km to the south west of Forbes.
I didn't have a camera with me, but I did take a couple of (sadly) low quality pictures on my SonyEricsson T630 phone. Here they are: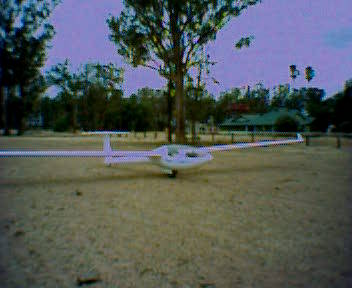 I actually landed about 75m away from where I took the photo (towards the middle of the paddock). I pushed the glider over near the fence so that the retrieve crew would have less mud to deal with in the event that one of the storms rumbling in the area had chosen to drop rain on the paddock. You can't see it in the photo, but I have tied down the glider by driving stakes into the ground and securing ropes to the wingtips and around the tail boom.
Flying stuff 18 Jan 2007 09:13 pm
Today's weather forecast suggested pretty good flying – we expected (and got) thermals marked by clouds in the area, and storms developing in the afternoon.
We (club member Bill in one aircraft, me in the other) laid in plans for a 500km flight: Coota – Tichbourne Silo – Wallendbeen – West Wyalong – Coota. We took off just after 12.00 – I was first away in the Jantar and Bill in the DG-303.
By the time Bill was away, I had set off on task and was about 20km along the track. Clouds marking thermals were already appearing and I was going pretty well until I came across a large storm directly on track – just over Black Springs Mountain. After my experience on Tuesday, I was pretty wary of the storm. I thought the sky was overdeveloping to the east of the storm, so I didn't want to go that way, and every time I tried to go to the west of the storm I got very low.
Bill has more exerience than me and was able to find a way north around the east of the storm. I could have followed, but instead decided to play safe and turn the day into a bit of an explore of the region. I flew back to Temora, then on to Coota and Wallendbeen before landing at Coota about 3.5 hours after taking off. I covered just over 200km.
In the meantime, Bill made it to Tichbourne (2 hours) and back (1 hour). He headed out towards West Wyalong but was thwarted by overdevelopment and dying lift. But he did get back to Coota, completing a 400km flight.
Tomorrow, the weather is supposed to be a bit hotter. Should be pretty good. We'll probably have one last go at the 500s.
(Interesting sidelight: every day until now the airwaves have been filled with chatter: English, Japanese and German. Today we heard no-one. I saw one other glider over near Temora – I think it was a Libelle – but it was a lot lower than me. I'd have expected the 'big boys' to be on long tasks today. I wonder what kept them all at home…)
Flying stuff 17 Jan 2007 05:16 pm
(Edited and re-posted from the SCGC camp blog…)
Today's flying proved that looking out the window can sometimes provide a better forecast than looking at reams of charts and diagrams.
The forecasts didn't look too good – suggesting a blue (cloudless) day of around 6,000′ thermals. A quick look out the window at 1200 showed cumulus clouds (which mark thermals) forming to the north — the forecasts were apparently wide of the mark.
We boarded our aircraft (Bryan in the Sydney Gliding Astir, Bill in the Jantar, Richard [me] in the DG303) and launched around 1230, aiming to complete 500km: Cootamundra – Eugowra – Peak Hill – Condoblin – Cootamundra.
Continue Reading »
Flying stuff 16 Jan 2007 08:34 am
A tough day in the air – hot, hard work.
I set a course for a 500km flight and took off just before 1300.
Two hours later I had travelled less than 100km, and it was obvious that 500km wasn't going to happen. I picked up a nice line of clouds (at last, some shade and decent lift), climbed to just under 10,000 feet and headed for home. Total flight time was just under 3.5 hours.
Flying stuff 14 Jan 2007 10:25 pm
I've arrived in Cootamundra for a few days' flying.
Fortunately, the potential explosion in the town's silo has been averted, so the locals have moved out of the motels – leaving a room free for me!
Initial reviews of the weather forecasts suggests that the next three days could be pretty good. I'll post each day with a brief report and (if they are good) flight maps. No photos at this stage – I left the camera cable at home.
Cars &Nerd stuff 10 Jan 2007 05:38 pm
These two videos show a recent interview with Richard Hammond, the Top Gear presenter who suffered a serious brain injury when he crashed while driving a jet powered car in September 2006.
The little fella is looking really well.
Church 09 Jan 2007 09:41 pm
A few weeks ago, I commented about Carols in the Park. Thought I'd share a couple of images (thanks to Max W for the photos) from the event.
First, here's a photo of your correspondent wearing a subtle disguise…
And here's one that's harder to explain…
Let's just say that the monkey graduated from Moore Theological College – and he did have a great Gospel message!
Flying stuff 09 Jan 2007 09:26 pm
Southern Cross Gliding Club's annual Christmas Camp is currently taking place at Cootamundra, NSW. I'll be there next week.
The club has set up a blog to report on happenings at camp. So far, I seem to be just about the only person posting on it – and I'm not even there! Feel free to visit the blog for a summary of camp activity. I hope to post more extensively here on my own experience of camp.
Sport 09 Jan 2007 09:19 pm
I'm sitting here watching the Twenty/20 cricket match from the Sydney Cricket Ground. To be honest, it's very silly/silly. This is cricket for those with a short attention span. Lots of slogging – but very little finesse, strategy or cunning involved.
Last Wednesday, I was delighted to be invited by a long-time friend to be his guest at Day 3 of the Test Match (versus England). What a contrast! It was a day of sustained pressure applied by the Australians to their English opposition: the tail wagged and the bowlers claimed wickets. It was an example of intensive and unrelenting cricket. Engrossing.
Back to tonight… The English batsmen (perhaps in this form of the game we should call them batters) are taking to the crease now. Visibility is reduced due to fireworks smoke. The television commentator says England has two choices: slog or slog.
Sigh…