Monthly ArchiveNovember 2006
Computing - general &Music &Nerd stuff 28 Nov 2006 11:45 am
I don't have an iPod.
I do have a portable, digital music player. It's a Rio Karma. And it's now an orphan. Rio has effectively exited the market, and my Karma has no long term future. When it dies, I'll either have to buy a used replacement on eBay, or join the iPod throng.
Anyway, that's a rather irrelevant preamble…
Microsoft has introduced its own portable digital music player: the Zune.
I found this review to be amusing. And disappointing. I had hoped that maybe Microsoft would introduce a mass-market product that would avoid what I perceive to be the pitfalls of the iPod: the less-than-stellar MP3 codecs and the proprietary nature of the iTunes Music Store.
No such luck.
Guess I'll keep hanging around out here in left field, buying ALL my music on CDs and ripping to Ogg Vorbis for playing on my orphan.
Church &Computing - general &Nerd stuff 22 Nov 2006 10:50 am
I wrote some time ago about using Pamela to record Skype calls — particularly as an aid to keeping a church congregation in touch with sent/supported missionaries.
I've just seen details about another (simpler) Skype plug-in that claims to do the same thing: PowerGramo.
I haven't used PowerGramo, and so I can't recommend it. If you try it out, please post a comment!
Computing - general &Flying Nerd recommends 17 Nov 2006 03:29 pm
As promised, herewith some observations on the FreeNAS Storage Area Network application.
After my bad experience with the Netgear SC-101 (here), I was (again) the owner of two unused 200GB IDE hard drives, and I still wanted to have a free-standing backup location for the family's computers.
A quick search led me to FreeNAS, an open source project based on the FreeBSD operating system.
Continue Reading »
Video editing 16 Nov 2006 05:03 pm
Ulead's having a sale – 10% off all downloaded products (and downloading is already WAAAYYY cheaper than buying boxed product here in Oz). Click here and follow the links for the special deals. [I may get a small benefit if you follow the link from this site…]
Computing - general &Nerd stuff 14 Nov 2006 08:39 pm
After a rebuild of the UltraBox (my home PC), I had a couple of 200GB IDE drives 'spare'. I decided to make some sort of NAS (Network Attached Storage) device to allow the household's various PCs to undertake regular backups.
Despite some (ahem) mixed reviews on various sites, I invested $155 in a Netgear SC-101 Storage Central box (see here).
The SC-101 looks like a great concept — it's small (smaller than a toaster), cheap, flexible (supports just about any IDE drives) and promises great operational flexibility.
Downsides include the fact that it ONLY works on PCs (not Macs – but that's not a problem for me) and it uses a proprietary file format (not FAT or NTFS – but this shouldn't be a showstopper for a backup device).
Sadly, in reality the SC-101 delivered so much less than promised. On my Core2Duo-based machine, it failed on so many levels. I've attached part of my support submission here:
Continue Reading »
Miscellaneous 14 Nov 2006 03:07 pm
"There is no end to red-neck ingenuity."
Miscellaneous 13 Nov 2006 02:33 pm
I noticed a press release today, issued by my former employer. The release (one page of normal-sized type) was accompanied by this fabulous disclaimer (one page of small type):
Continue Reading »
Flying Nerd recommends &Miscellaneous 13 Nov 2006 11:22 am
If you read my post some time ago about rainwater tanks, you'd know that our home has a new deck out the back. Here it is: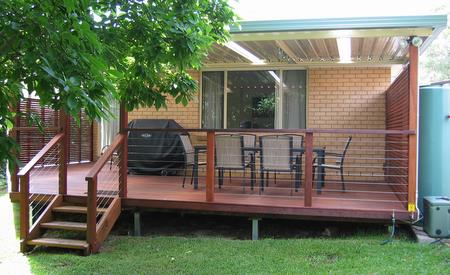 Our rainforest-like back yard is really delightful — cool, green and lush. Lots of birds visit us (I saw a glorious red and blue rosella this morning).
For years, we have also been plagued by mosquitoes.
Well, deck + mosquitoes = frustration. Frustration that there's a beautiful deck outside that's not being used because nobody wants to share blood with the mozzies.
Technology to the rescue.
At the Sydney Royal Easter Show we came across a man selling Bug Eaters. We bought a Bug Eater to tackle our mozzie problem. Here it is, installed on the side fence:

Continue Reading »