Formula 1 28 May 2006 03:36 pm
It's past midnight. I'm sitting on the lounge watching the Monaco Grand Prix. And I'm devastated to have just seen Mark Webber's car fail – again.
Mark put in a terriffic qualifying performance to score third on the grid (which became second after Michael Schumacher was sent to the back for a 'professional foul'). His qualifying performance was even better in context given that he had more fuel on board than those around him.
He was doing a superb job in the race, comfortably holding third position and looking good for a podium. After a couple of frustrating laps behind Fisichella, who had not been shown the blue flag when he should have been, he had just put a lap on Fisi when the engine expired.
What does Mark have to do to get a break? He retired from the lead of the Australian Grand Prix (which would probably have shaken out to second or third position at the end of the race). He also retired hurt in Malaysia and Nurburgring. And now he has retired from Formula 1's most galamorous event.
Very sad.
Church &Computing - general 18 May 2006 01:33 am
At Macquarie Anglican Churches we support a number of missionaries in various parts of the world.
One of the challenges of supporting missionaries is the maintenance of interest amongst the congregations: it's easy to lose contact with people half a world away. We've tried (with varying degrees of success) to use multimedia in church to build and maintain interest in our missionary partners and their work.
Continue Reading »
Computing - general 18 May 2006 12:56 am
UPDATE 15 June 06: I tried the updated version of this utility. It still produces screen corruptions in PowerPoint. Tried on home PC and laptop. Same problem on both. Recommendation now fully withdrawn. Shame.
UPDATE 5 June 06: There's an updated version of the software available from the link below. I haven't tried it (yet). If you have or do, please post a comment below.
UPDATE 31 May 06: Well, I'm sad to say that this otherwise terrific utility is definitely causing problems with Microsoft Powerpoint and Microsoft Word (running under WinXP SP2). In Powerpoint, it causes part of the screen to be duplicated with a slight offset. In Word, it has been seen to double up a line of text in a document. Until I see these things fixed, I'm withdrawing my recommendation.
UPDATE 19 May 06: I've disabled this utility. It may have been causing some weird PowerPoint behaviour. I have been having problems with slide backgrounds coming to the top layer of a slide while editing. I'll post again to advise as to whether this behaviour is linked to Visual Task Tips. FN.
********
Here's another useful utility for your Windows PC.
Apple people: you've probably already got something like this. [There: that's saved you writing to tell me how good Macs are.]
Visual Task Tips is a free, quick-to-install utility that pops up little pictures of the various 'windows' on your PC when you hover your mouse over the taskbar buttons. The bottom line is: you see a small preview of whatever the particular taskbar button represents. This makes it very easy to switch from one app to another!
Apparently this function (or something similar) is coming with Windows Vista, which will be available Real Soon Now.
You can download here.
And here's what it looks like on my PC! The picture shows a Visual Task Tip for Outlook, which is floating above the WordPress window I'm using to write this post!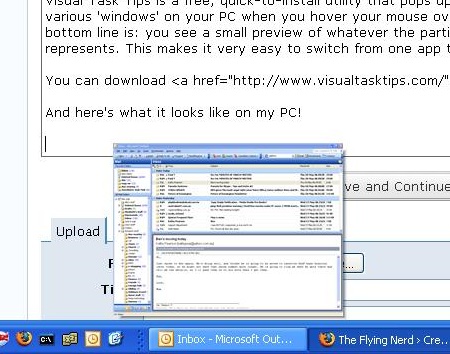 What do you think?
Flying Nerd site 17 May 2006 11:27 pm
* Revised 'logo', now incorporated in header
* New typeface for header
* New 'favicon' (clear cache to see it)
Bargains &Computing - general 09 May 2006 05:33 am
Fuji Xerox has a $200 'cash back' promotion on their popular Docuprint C525A colour laser printer. Details here. If you are looking for a colour laser printer, this could be quite a good deal.
Continue Reading »
Formula 1 05 May 2006 12:44 pm
I remember very clearly the night (Australian time) F1 driver Ayrton Senna died.
I didn't have a lot of love for Senna out of the car, but I admired his driving tremendously. He was blisteringly quick, and could control a car like a seal balances a ball on its nose (eh?). His skill was perhaps best exemplified at the 1993 European GP (held at Donington Park in England) — see here for details.
Continue Reading »
Bargains &Movies &Music &Nerd stuff 03 May 2006 07:27 am
I love a bargain. Who doesn't?
Well, here's a bargain that I can't use… Maybe you can.
Uncle Steve (that's what he calls himself) at Eastwood Hifi (one of Sydney's few remaining specialist hifi stores) has some Celestion AVP305 5.1 speaker systems available at the special price of $990 (marked down from $3,199).
Continue Reading »
Video editing 02 May 2006 11:50 am
Regular visitors to this site will know that the Nerd not only flies — he edits video (for fun, not money).
I have two video editing programs on my PC at present — both from Taiwanese software house Ulead.
For heavy-duty editing with maximum versatility and control (and complexity), I use MediaStudio Pro 8 (MSP). As I've said before, I reckon that MSP is the best value prosumer video editing software available. It doesn't have ALL the capability of (say) Premiere Pro, but it is significantly cheaper. And if you're not editing for broadcast, MSP probably does just about everything you could possibly need. It's available for download from Ulead for around $A550 (new purchase). Upgrades from earlier versions of MSP or VideoStudio cost less. By comparison, IF you can find it in local shops, the RRP is around $A650. (Buy MSP from Ulead here).
For quick editing, yet with a surprising amount of flexibility, I use and recommend VideoStudio (which has just been updated to Release 10).
Continue Reading »