Monthly ArchiveMarch 2006
Flying stuff 20 Mar 2006 09:18 pm
The Southern Cross Gliding Club's DG-1000 two-seat glider did some acrobatics the other day. Count the loops on this video. (Warning: 5MB download. Biassed opinion: worth it!)
Hint — you'll need more than the fingers on one hand!
Screen shot (that's the ground at top of pic!):
Formula 1 17 Mar 2006 09:19 pm
Flavio Briatore, Team Principal of the Renault F1 team, has weighed into the debate about the third part of the new F1 qualifying process. See my earlier posts, below, for my thoughts.
Flavio has an interesting and slightly different take on things. In his words:
You put as much fuel in the car as you want – say 70 kilos – and then at the end the car goes into Parc Ferme and however much you have left is the amount you start the race with.
Not a bad idea, Flav. It would certainly avoid the economy run, it would be simple for the teams, and would create an interesting real-time trade-off assessment for the team strategists: is it worth sacrificing some fuel (that would otherwise be used in the first part of the race) in order to have a go at moving up the grid? Given a less-than-full-pace out-lap and a slow in-lap, it would probably cost a bit more than two laps worth of fuel (at race pace) to have a crack at a fast time. If you were fifth on the grid and thought you could get up to (say) second, it would probably be worth it.
Your thoughts below.
Formula 1 17 Mar 2006 09:47 am
Well, I'm not the only one who thinks F1 qualifying is now good-but-could-be-a-little-bit-better. Frank Williams (majority shareholder of the hardest-working F1 team) and Ron Dennis (boss of the evil McLaren team) are both quoted on the ITV-F1 site suggesting that a spot of fine tuning of the qualifying format might not go astray.
I've had a chance over the last two days to think about the suggestions I made in my Bahrain GP wrap-up (here) about avoiding the economy run aspects of the final 20-minute run-off for the 10 fastest cars.
Continue Reading »
Formula 1 14 Mar 2006 03:20 pm
After what seemed like years without a Formula 1 race, Sunday's Bahrain Grand Prix was a cracker. I have one-eyed comments on various aspects of the event, the coverage and a team-by-team look at the results.
Continue Reading »
Formula 1 06 Mar 2006 01:54 pm
It may not be live, and it certainly isn't at a civilised time, but F1 fans will be delighted to see that Channel 10 will be showing the qualifying session for this weekend's Bahrain Grand Prix.
That's big news, because it's been an ongoing complaint from F1 fans that qualifying, one of the most interesting parts of a GP weekend, has been reduced to a one minute summary prior to the race telecast.
Unless you happen to check your local guide for 0230 on Sunday morning, you may not know about this. But of course, YOU are an educated and intelligent reader of www.flyingnerd.com — so you DO know. Make a time in your diary to go out and buy a new tape for the VCR (or program the Topfield for 0230) and find out what happens in qualifying in 2006.

Continue Reading »
Miscellaneous 05 Mar 2006 04:04 pm
Jamie (of course).
Went for a long walk with my girls this morning (we go to church at 5.00pm). On arrival home, we decided to watch Monday night's ep of Mythbusters, in which Adam and Jamie undertake a series of tests to determine which one is the Ultimate Mythbuster.
Needless to say, Jamie won (three tests to one, with one drawn).
Did you really expect anything different?
Jamie's an interesting guy. Bio here.
Flying stuff &Humour &Miscellaneous &Nerd stuff &Nonsense 01 Mar 2006 10:44 am
[Update: the referenced video is no longer available on Google Video.]
Nerds (flying or otherwise) love Top Gear. Right Neil?
I stumbled across the fact that the fabulous British TV show about cars has some episodes on Google Video. The Top Gear team, led by the ever-manic Jeremy Clarkson, made a special show with a Winter Oympics theme. You can view it directly on this site, below.
I haven't had time to view the whole episode yet, so I won't comment on the MANY silly things that they do with cars and ice. But if you scroll through to about the 50th minute, you can see the Top Gear attempt at sending a Mini Cooper (a real one, not the recent BMW version) over a ski jump. With rockets attached.
Here's a screen grab.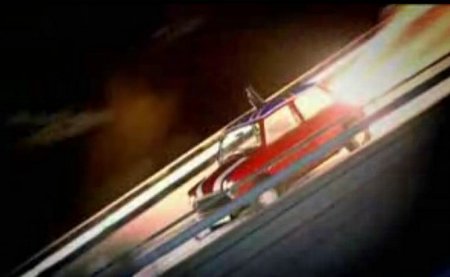 Enjoy!