Music &Nerd stuff (technology) 14 Aug 2008 09:46 am
My trusty old Rio Karma is nearing the end of its useful life, so I'm starting to think about an upgrade.
The 'easy' solution would be simply to buy an iPod. Since I'm looking for something with more than 20GB of solid state (not hard drive) storage, the 'best fit' iPod for me would seem to be a 32GB iPod Touch. And it's a lovely looking piece of kit — but really expensive ($A629). And then there are my pet iPod peeves:
limited audio format support (I'd like my device to be able to play a format that offers higher quality than MP3 at a given bit rate — maybe AAC fits the bill, but I'm not yet convinced)
iTunes and all the associated DRM issues (I don't buy compressed music — everything in my existing player is ripped from CDs that I own (no copies), so I don't need access to an online store with wide range of downloadable music).
So… I'm contemplating staying outside the iPod ecosystem. I'm seriously considering the Creative Zen 32GB player, which can be had for $A319.
If you have thoughts or experiences, let me know.
Music &Nerd stuff &Nerd stuff (technology) 09 Jun 2007 09:22 am
The replacement parts for my broken Rio Karma digital audio player arrived (from Karmalimbo in Canada), and the beastie is now repaired and working as well as ever.
Here's how it all came together.
First, a picture showing the bits of my Karma after I'd opened it all up to find the problems (broken volume control buttons). This photo was taken after removing the case and disconnecting the battery (battery is the square, balck piece) but prior to removing the display and hard drive from the main (damaged) circuit board.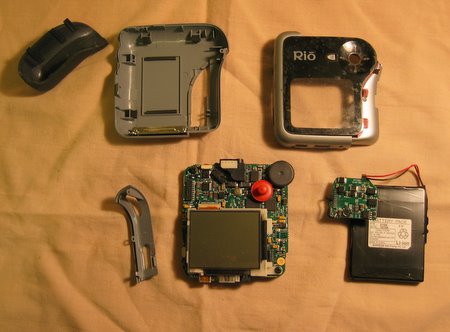 Music &Nerd stuff (technology) 08 May 2007 04:45 pm
It's not as bad as it sounds, folks.
My companion on my early morning constitutionals – an aged Rio Karma digital audio player – has died. The 'increase volume' button failed. By the time I figured out what the problem was, it was too late – I'd already turned the volume down.
Computing - general &Music &Nerd stuff 28 Nov 2006 11:45 am
I don't have an iPod.
I do have a portable, digital music player. It's a Rio Karma. And it's now an orphan. Rio has effectively exited the market, and my Karma has no long term future. When it dies, I'll either have to buy a used replacement on eBay, or join the iPod throng.
Anyway, that's a rather irrelevant preamble…
Microsoft has introduced its own portable digital music player: the Zune.
I found this review to be amusing. And disappointing. I had hoped that maybe Microsoft would introduce a mass-market product that would avoid what I perceive to be the pitfalls of the iPod: the less-than-stellar MP3 codecs and the proprietary nature of the iTunes Music Store.
No such luck.
Guess I'll keep hanging around out here in left field, buying ALL my music on CDs and ripping to Ogg Vorbis for playing on my orphan.
Flying Nerd recommends &Music 24 Jul 2006 10:29 pm
Latest CD in my player – and one I am enjoying – is a collaboration between Elvis Costello and American songwriter/producer Allen Toussaint called The River in Reverse.
The title refers to the flooding in New Orleans after Cyclone Katrina. The album was recorded in New Orleans, apparently in an attempt to demonstrate that the local music scene is still alive.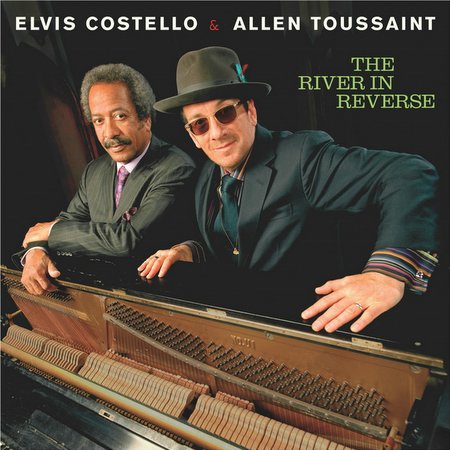 The music on this CD is rich and smooth. It's not the hard-edged punkish-rock of Costello's early work (or even of the recent Delivery Man and When I was Cruel). The band is a combination of Costello regulars and Toussaint's virtuoso team. The playing is sharp and dynamic, but with lots of light and shade. I've been particularly enjoying track 3: Tears, Tears and More Tears. Samples of the tracks play on the EC web site for those who are interested.
Bargains &Movies &Music &Nerd stuff 03 May 2006 07:27 am
I love a bargain. Who doesn't?
Well, here's a bargain that I can't use… Maybe you can.
Uncle Steve (that's what he calls himself) at Eastwood Hifi (one of Sydney's few remaining specialist hifi stores) has some Celestion AVP305 5.1 speaker systems available at the special price of $990 (marked down from $3,199).
Continue Reading »
Music 06 Nov 2005 11:16 am
I celebrated my second 21st birthday a week or so ago. One of my gifts was the newly-released CD: She will have her way: the songs of Tim and Neil Finn.
Music 25 Jul 2005 01:55 pm
At my age (please try to contain those giggles), you're not supposed to start liking new styles of music. All around the world, radio programmers put enormous effort into finding just the right mix of classic hits music to attract people like me (and the advertisers that target us).
So why do I find myself listening to Moby and Venus Hum?
Continue Reading »