Flying stuff &Humour &Miscellaneous &Nerd stuff &Nonsense 01 Mar 2006 10:44 am
[Update: the referenced video is no longer available on Google Video.]
Nerds (flying or otherwise) love Top Gear. Right Neil?
I stumbled across the fact that the fabulous British TV show about cars has some episodes on Google Video. The Top Gear team, led by the ever-manic Jeremy Clarkson, made a special show with a Winter Oympics theme. You can view it directly on this site, below.
I haven't had time to view the whole episode yet, so I won't comment on the MANY silly things that they do with cars and ice. But if you scroll through to about the 50th minute, you can see the Top Gear attempt at sending a Mini Cooper (a real one, not the recent BMW version) over a ski jump. With rockets attached.
Here's a screen grab.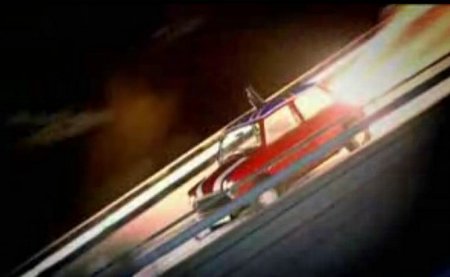 Enjoy!
3 Responses to "Top Gear Winter Olympics special"
on 01 Mar 2006 at 12:52 (Sydney) 1.Neil said …

Oooh Yeah!!!!
Cheers Richard!

on 04 Mar 2006 at 17:45 (Sydney) 2.Simon said …

Excellent… just finished watching it. Thanks for the pointer.

on 05 Mar 2006 at 15:36 (Sydney) 3.Richard said …

Simon – there must be some way to turn this into a maths modelling problem… If the car starts x metres up the slope and has a thrust of y kg for z seconds and describes such and such an arc, then how far down the landing slope will it land?

Of then again you could just show the kids the video and be the coolest teacher in school!

By the way, my wife just started (last week) her Grad Dip Ed at Macquarie. She's planning on doing it over two years and putting her BA in English Lit to good use.

Richard.