Church 03 Dec 2005 02:01 pm
On Sunday, 18 December 2005, Macquarie Anglican Churches is presenting Carols in the Park.
The park in question is Yamble Reserve, seen here from Google Earth: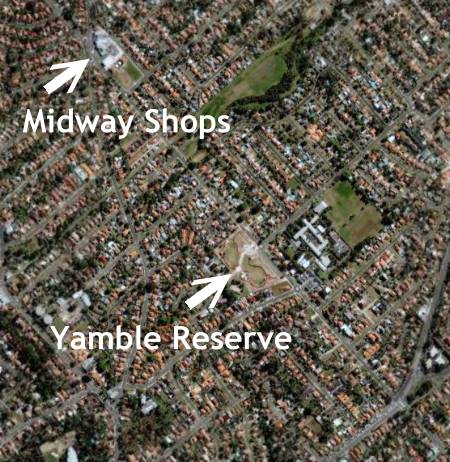 Yamble Reserve is on Quarry Road in North Ryde, opposite Smalls Road. It's a teriffic venue for the event — we sit in a natural 'bowl', so all can see, and there is a great kids' playground area adjacent to the 'singing zone'.
We'll be cooking sausages and selling cool drinks on the night.

Your friendly Flying Nerd is once again co-ordinating the event.
Last year, we had around 500 people in the park — which was quite amazing given that we 'enjoyed' a massive thunderstorm and dump of rain that ended just 15 minutes before the scheduled starting time!
For more details, visit the Macquarie Anglican Churches website, or drop me a line.
8 Responses to "Carols in the Park"