Formula 1 03 Dec 2005 01:33 pm
Formula 1 testing resumed this week after the end of season break — except for Ferrari which has been testing during the 'gentleman's agreement' break period. But that's another story, and you already know my feelings about Ferrari…
Freed from the shackles of BMW's dud engine and whining F1 project director, the WilliamsF1 team has begun testing with a new and striking 'interim' livery: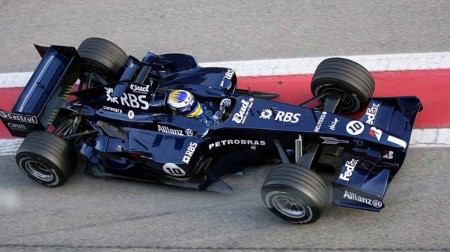 Close inspection of the livery reveals many details about how WilliamsF1 will approach 2006:
* tyres come from Bridgestone, not Michelin
* engine is from racing-engine-specialist Cosworth, not BMW
* Hewlett Packard has withdrawn from F1 and is no longer the principal sponsor
* (not visible on this picture) Nico Rosberg has joined the team to partner 'our' Mark Webber.
What does all this mean?
Tyres: hard to predict at this stage. The fundamental construction technique used by Bridgestone for F1 tyres was not suited to the one-set-of-tyres-per-race rule that applied in 2005. As a result, Bridgestone-shod teams performed poorly. 2006 sees a return to mid-race tyre changes, which should remove this fundamental handicap for Bridgestone. But without years of (recent) Bridgestone experience the change of tyres will generate a big workload for the Williams engineers.
Engine: Once again, hard to predict. For 2006, Formula 1 moves to 2.4 litre V8 engines for most teams (the Second Red Bull team, formerly Minardi but now known as Scuderia Torro Rosso, will use a de-tuned 2005 V10 engine). This may have a leveling effect. Williams and Cosworth claim that Cosworth's long experience with racing V8s will serve them well — which it may. But it's difficult to see Williams and Cosworth investing anything like as much in engine development as the big manufacturers. And the not-so-closely-guarded secret that WilliamsF1 will have Toyota donks in 2007 certainly won't help the Cosworth investment climate.
HP pullout: Title sponsors are significant in Formula 1, but perhaps not as significant as you might think! There's a lot more money flowing to a good team (like WilliamsF1) from FOM (Formula One Management — which gets money from TV rights and race sanctioning fees) than from sponsors. Likewise the engine manufacturers pour in tens of millions to the teams in addition to the hundreds of millions spent on the engine programs. WilliamsF1 will, I'm sure, have a title sponsor for 2006 — there'll be a smart company that wants to lock in WilliamsF1 for 2007 and beyond.
Nico Rosberg: New name to F1. No F1 ego. Cheap. Just what WilliamsF1 needs for 2006. Good call Frank.
One Response to "All change at WilliamsF1"
on 28 Jul 2006 at 21:03 (Sydney) 1.The Flying Nerd » Blog Archive » WilliamsF1 to use Toyota engines from 2007 said …

[…] From here: And the not-so-closely-guarded secret that WilliamsF1 will have Toyota donks in 2007 certainly won't help the Cosworth investment climate. […]