Flying stuff 03 Dec 2005 12:44 pm
Southern Cross Gliding Club will be displaying a glider on the front lawn of the Willoughby Town Hall (Victoria Avenue, Chatswood) tomorrow (Sunday, 4 December 2005). Better still, we'll be selling tickets for 'Air Experience Flights'.
An Air Experience Flight is like a joy flight, but with one big difference. Under the careful supervision of one of our experienced instructors, YOU get to take the controls and fly the glider. It works like this:
* the instructor flies the glider during take-off and aerotow (when the glider is towed aloft behind a small power plane)
* the instructor will fly the glider for a while to show you the views and explain a little bit about what's going on
* if you're keen, the instructor will help you take hold of the controls and fly the glider — you'll get to experience straight-and-level flight, and make a few turns
* when it's time to land, the instructor will again take the controls to bring you back for a gentle landing on our (currently very green) runway.
Sound like fun? Come and check out our glider in Chatswood. Ask us some questions. Buy a ticket!
Since the club is run by volunteers and no-one gets paid for taking you on an Air Experience Flight, we are able to use the profits from this program to save up for our next new toy — a new ASK-21 two seat training glider.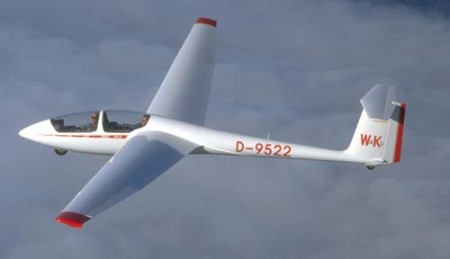 3 Responses to "Glider lands in Chatswood"
on 03 Dec 2005 at 14:10 (Sydney) 1.Simon said …

"careful dupervision"… really?

on 05 Dec 2005 at 10:33 (Sydney) 3.Richard said …

Good news: lots of people visited us and our glider. Many were very interested in the club or at least in a joy flight certificate.

Bad news: Willoughby Council wouldn't let us actually sell certificates on the day… We took names and gave out brochures.