Formula 1 01 Sep 2005 08:02 pm
What is that odd-looking structure on the top of Nick Heidfeld's Williams racer at the recent Monza tests?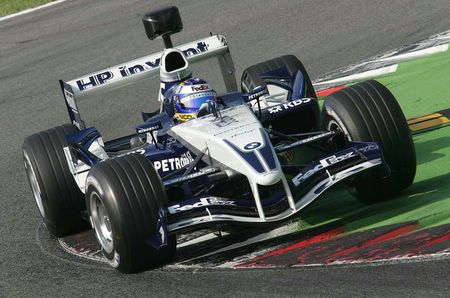 More pictures, and my guess after the jump.
I think the strange-looking black box may house rear-facing cameras, designed to look closely at the bodywork at speed.
Recall that Williams suffered five rear tyre failures at the recent Turkish Grand Prix, and retired the cars for safety reasons. The only thing the team has since said is:
To address the tyre incidents that we experienced in Istanbul, we have worked through all the possible variables, such as pressure and camber, with Michelin.
In the Williams R&D labs at Grove we also performed some loaded tyre tests to check what type of deflections the tyres would have seen during the lap. Finally, at the test in Monza last week, we went through various trims of the bodywork to ensure that there is no possibility for the tyre to touch anything on the car.
I think that's code for "the tyres were rubbing on the bodywork". So I think they have installed some special cameras to check out the bodywork and tyres on the fast straights and high-speed corners of Monza.
Have a look at the photos, and post your speculation as a comment, below.