Flying stuff &Nerd stuff 23 Jan 2007 12:12 am
When I drove into Camden Airport to drop off a glider after Gliding Camp, I noticed that a new windsock had been installed. Here are a few interesting photos…

This picture shows a general view of the Holdenberg.
The tethering mast is clearly visible. 14 crew (including two on board) are involved during landing.
For most flights, the gondola contains the pilot and a video screen operator. [I wanted to take a close-up photo of the LED-array video screen, but the crew was a bit touchy about that. Apparently the manufacturer of the srcreen is not too keen on having the details publicised. But I did learn that there are 2 x 1,000W lamps inside the ship to light it up at night!]
A pair of 180hp Lycoming motors powers the ship.
The control surfaces are manipulated by external cables.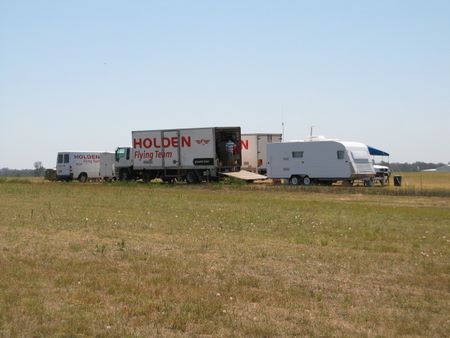 The support vehicles.
And just for interest, here's my mighty steed with VH-DGU attached (in the 10m long trailer).