Flying Nerd recommends &Miscellaneous 13 Nov 2006 11:22 am
If you read my post some time ago about rainwater tanks, you'd know that our home has a new deck out the back. Here it is: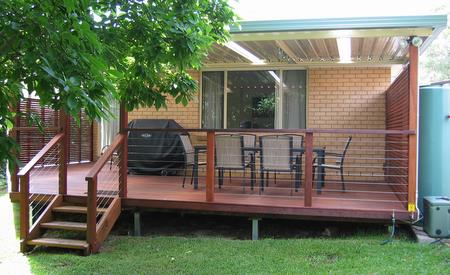 Our rainforest-like back yard is really delightful — cool, green and lush. Lots of birds visit us (I saw a glorious red and blue rosella this morning).
For years, we have also been plagued by mosquitoes.
Well, deck + mosquitoes = frustration. Frustration that there's a beautiful deck outside that's not being used because nobody wants to share blood with the mozzies.
Technology to the rescue.
At the Sydney Royal Easter Show we came across a man selling Bug Eaters. We bought a Bug Eater to tackle our mozzie problem. Here it is, installed on the side fence:
and a close-up: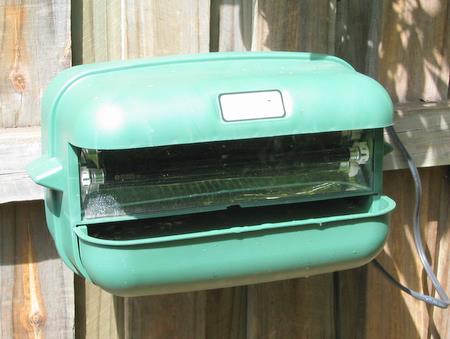 Like many insect-catching devices, the Bug Eater uses an ultraviolet light to attract the pests. Unlike noisy 'zappers' or devices using insecticides, the Bug Eater drowns its prey. There's nothing more toxic in it than some ordinary dishwashing liquid (which is used to break the surface tension of the water in the catching tray).
The idea is that the bugs are attracted by the UV light and, as they approach, they are blown down into the water where they meet their end. Here's the manufacturer's diagram: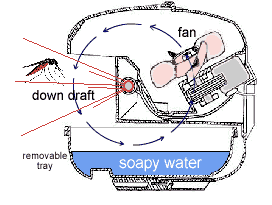 The manufacturer suggests that the Bug Eater will control mozzies by depleting the population over a few weeks, breaking the breeding cycle.
So, it's (reasonably) quiet, there are no toxic chemicals or dangerous voltages involved. But does it work?
I installed the Bug Eater about six weeks ago. The day before I installed it, half a dozen mozzies were buzzing me as I sat outside. It was unpleasant, and the bugs won. I retreated indoors.
For the first few nights, the Bug Eater caught several hundred mozzies each night. After that, things started to tail off. We still get quite a lot of moths, but only a few tens of mozzies each week. (I run the Bug Eater from around 6.00pm DST to 4.00am, under the control of a small timer switch. The unit runs on 12V from a small plug pack. The plug pack is installed under the deck and I've run the heavy wire used for 12V garden lights from the plug pack to the unit itself.)
The big test: on Saturday evening I barbecued on the deck and the family sat outside to eat. One mozzie-like bug was spotted – but we couldn't confirm its identity. The two junior Nerds – whose skin seems to be VERY sensitive to mozzie bites – received NO bites.
Bottom line: this thing seems to really work!