Movies 03 Oct 2006 12:31 pm
Over the last few days, Mrs N and I saw two speed-themed movies. One was bad, and one was good.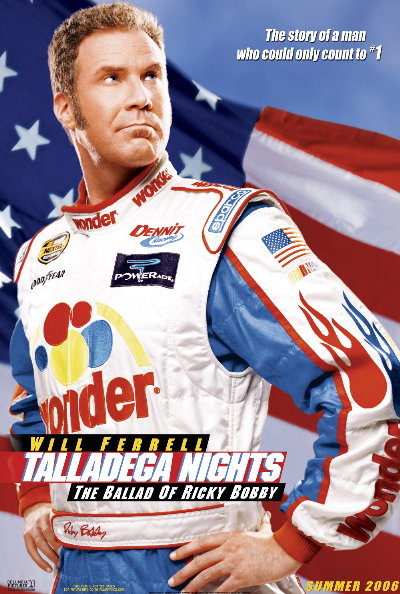 Talladega Nights – The Ballad of Ricky Bobby tells the story of Ricky Bobby, a NASCAR driver whose rapid rise to fame is countered by an equally rapid fall.
Will Ferrell plays Ricky Bobby who, after a childhood spend 'wanting to go fast', is promoted from mechanic to driver when his team's real driver steps out of the car during the race to have a meal. Despite some reasonably funny moments (almost all of which feature Sacha Baron Cohen as 'Jean Girard', Ricky's ex-F1 nemesis), this is a pretty brainless flick that has little to offer by way of edification or stimulation.
If you must, it's in cinemas across Sydney today. Definitely do NOT take young children.
The World's Fastest Indian, on the other hand, was an absolute delight. This is the based-on-fact story of aged and obsessed Bert Munro (Anthony Hopkins) from Invercargill. For years, Bert has been turning his 1920 Indian Scout motorcycle into a land speed record contender. The movie traces his journey from New Zealand to the Bonneville salt flats for speed week in 1967. It's a gentle yet inspiring tale about achieving great things without abusing and exploiting people on the way.
Available now on DVD. Thoroughly recommended.