Nerd stuff &Video editing 25 Jul 2006 10:57 am
Like many technophiles (and even many family snappers), I have a growing library of digital photos that I'd like to be able to share.
Sometimes I print photos (either at home or at a photo lab). These are great for viewing in some circumstances, but usually they're only suitable for one person at a time.
Making slide shows on video DVDs for play back in standard set-top DVD players is a great way to share photos. Using this medium, photos:
* are easily transported (one disc can contain hundreds of pics)
* can be shown at just about anybody's home with little or no setting up of equipment
* (if put on the disc with a sensible menu structure) can be quickly and accurately accessed from a large library
* can be distributed to others, even with audio commentary.
There are many software packages available that are supposed to make creating DVD slide shows simple. Maybe I'm being picky, but I can't find even one that meets my four main criteria:
* support for creation of widescreen (16:9) slide shows
* ability to have customised pan and zoom effects on the photos (per-photo customisation and control of the effect)
* ability to undertake simple photo editing (brightness, contrast, colour saturation, red-eye removal)
* output to AVI file (which can be burned to DVD using an authoring program) or direct-to-DVD (with menu creation).
Here's my analysis of the main packages, showing which ones support each of my abovementioned criteria: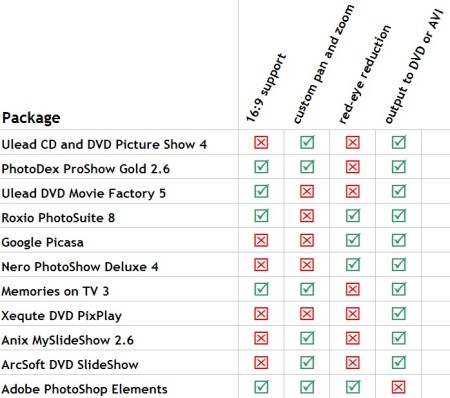 Let me comment on some of these packages (I have downloaded the time-limited trials of many of these to give them a spin):
Ulead CD and DVD Picture Show 4 is not a bad program if you are happy with 4:3 output. The general controls are quite good, but pan and zoom control is not as easy to find as I would prefer. Red-eye reduction is absent, which is a showstopper for me. (The PR blurb used to say that red-eye was included, but I could never find it and I noticed that those references are no longer present on the Ulead web site.)
PhotoDex ProShow Gold 2.6 is an amazingly comprehensive package, except for the absence of red-eye reduction. The degree of control over images is almost overwhelming — this is definitely a high-end tool, and I would probably buy and use it if red-eye reduction was included.
Ulead DVD Movie Factory 5 is a great DVD authoring tool, but its slide show creation abilities are limited.
Google Picasa is a delightful package, but it isn't designed as a slide show creation tool. It contains surely the simplest and most effective red-eye reduction tool available. Picasa is part of my current workflow – see below.
Adobe PhotoShop Elements is strong across the board, but lacks the ability to create either DVDs or AVI files. I love the simplicity and intuitive nature of the pan and zoom tools.
Having been unable to identify a single tool to do what I want (and I don't think that what I'm looking for is all that extreme), I have developed the following workflow:
* Edit photo in Picasa (crop, contrast/brightness, red-eye).
* Export copy from Picasa at unchanged resolution, 100% jpg quality (this is a non-destructive export, so I always have the original picture files for the future).
* Import the exported photos to Ulead MediaStudio Pro 8 (prosumer video editing package), place on time line.
* Set durations and transitions (I usually only use cross-fades) in MSP 8.
* Apply customised pan and zoom using the tools in MSP 8.
* Render to PAL AVI and save.
* Import AVIs to Ulead DVD Movie Factory 5.
* Create menu structures, select menu thumbnails, apply menu titles in DMF5.
* Encode to MPEG and burn DVD from DMF5.
Yes, it's a bit of a clunky process, but it works well and has all the control I need.
If you know of a single package that does everything, do tell.